The Secret Sauce for These CPG Brands? Quirky Culinary Events
There's been a recent uptick in experiential culinary programs, but we're not talking about your average restaurant pop-ups. CPG brands are spicing up the dining scene with quirky, first-of-their-kind experiences that often provide multisensory touchpoints—and consumers have been eating them up (look no further than the Lay's "Potatdomes" at Coachella this year). If you're looking to add a little flavor to your events, chew on the following activation strategies.
PHILADELPHIA
We're all familiar with the concept of eating your feelings, but Philadelphia Cream Cheese took the concept to another level with Feeladelphia, a pop-up restaurant in New York City where diners didn't order food—they ordered emotions. With the head chefs and owners of Contra and Wildairat, Jeremiah Stone and Fabián Von Hauske Valtierra, at the helm, the brand took consumers on a multisensory, multicourse journey (tickets were $35 per person, with all proceeds donated to charity). While savoring curated cream cheese-infused dishes, with names like "allure," "satisfaction" and "spontaneity," diners experienced a variety of textures, temperatures, visuals and flavors, enhanced by stimulating sounds and a few "sensorial surprises."
The idea of crafting a menu based on feelings, versus specific ingredients, was inspired by Philadelphia's "You Don't Just Taste It. You Feel It" messaging, and customer narratives describing how Philadelphia cream cheese goes beyond taste to stimulate the senses and evoke emotions. And to give consumers at home a taste of the experience, Philadelphia published "The Feeladelphia Experience: An Immersive Cookbook," a limited-edition "experiential" cookbook featuring edible pages, interactive scents, curated sonic experiences and more (Unicorns & Unicorns handled). Talk about coming to your senses.
View this post on Instagram
---
More Off-beat Culinary Experiences:
---
FANCY FEAST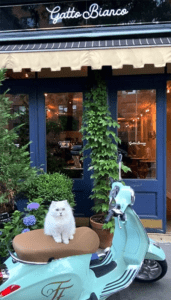 How's this for a dining concept: An Italian trattoria in Manhattan where people eat meals inspired by cat food. Welcome to Gatto Bianco by Fancy Feast, a pop-up restaurant where the brand's in-house chef, Amanda Hassner, and acclaimed Italian restaurateur Cesare Casella delivered a human take on Fancy Feast's Medleys canned cat food recipes while paying homage to Italian cuisine. What kind of brand would propose eating like a feline, you ask? It's all part of Fancy Feast's mission to show pet parents the TLC that goes into formulating its "gourmet" recipes for cats. The complimentary, limited-capacity experience even included a special appearance by the Fancy Feast kitty herself—social media gold for cat lovers.
For those who couldn't participate in the Gatto Bianco dining experience, Fancy Feast shared recipes inspired by the restaurant's menu on its website, giving pet parents a chance to whip up dishes like osso buco-style salmon with saffron risotto at home. It's hard to believe the same concept hasn't been carried out for dog lovers. But something tells us rawhide is less appealing than salmon.
That's not the first time the Purina-owned brand delved into the human dining scene. Last year, Fancy Feast launched its Petites line of single-serve "entrees," and published a digital cookbook for humans to coincide with the new meals. Enter: "Petite Feast: A Cookbook," featuring 12 single-serving recipes inspired by cat food. The cookbook was curated by Hassner, along with input from James Beard Award nominee Jerrelle Guy and actor-turned-baker Josh Snyder. Recipes from chicken and ramen with tomato honey butter sauce, to salmon cannellini cakes with lime cilantro remoulade, were all crafted using "palate pleasing ingredients" similar to those found in the brand's Petites products. The meals are even color-coded so consumers know which Petites dish to match them with. Kind of brings new meaning to "I'll have what she's having."
CAP'N CRUNCH
The floating event trend is steadily bobbing along and it's getting even stranger. The latest brand to seize the opportunity was Cap'n Crunch, which launched the "Cap'n's Commute," an activation produced on a branded ferry, complete with a ship mast featuring a giant cereal bowl installation at the top, that made stops at five commuter ports around New York City. The goal was to add a little pep to commuters' step and liven up morning routines through engagements aboard the vessel (which was inspired by Cap'n Crunch's own S.S. Guppy), including photo ops, a dj, games and plenty of Cap'n Crunch products to fuel the day ahead. Fans who couldn't get their float on in person could enter to win a limited-edition "Cap'n's Commuter Capsule" collection developed in partnership with pop artist Chad Cantcolor (Agencies: Motive, program; Pink Sparrow, build).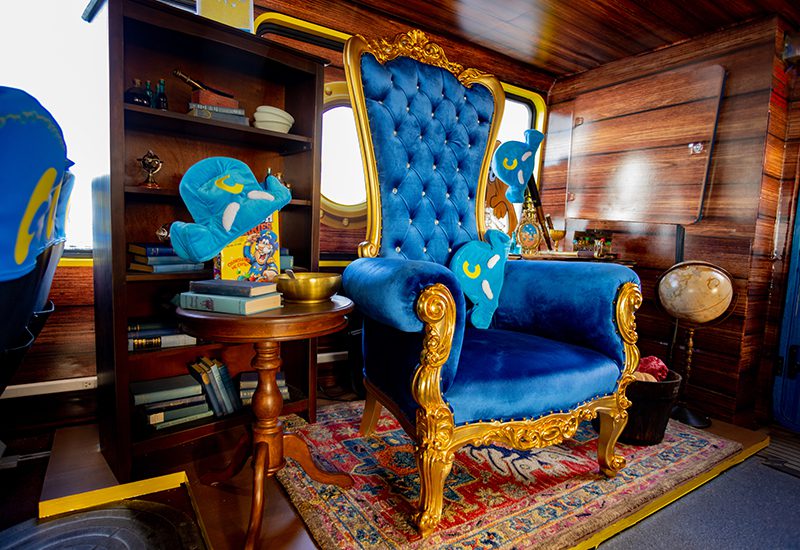 The post The Secret Sauce for These CPG Brands? Quirky Culinary Events appeared first on Event Marketer.
Source : https://www.eventmarketer.com/article/cpg-brands-quirky-culinary-events/